Facets is Windows-based software which assists in many applications of the Rasch model, particularly in the areas of performance assessment and paired comparisons. We recommend that you first become familiar with the conceptually and operationally simpler Rasch-measurement program WINSTEPS before embarking on Facets. We also offer Training Courses - please contact us for details. There is more information at: www.winsteps.com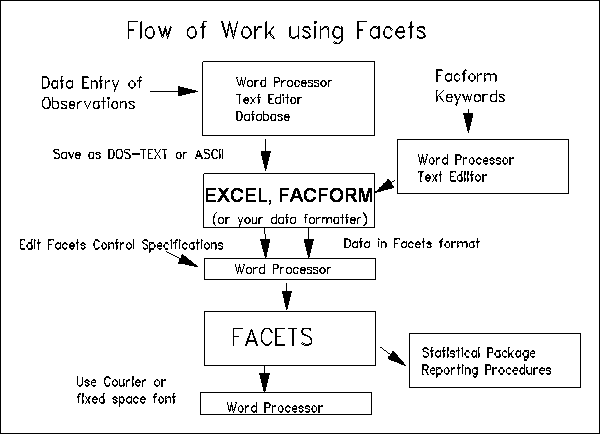 This manual contains instructions for operating Facets, a computer program for the construction of linear measures from qualitatively-ordered counts by means of many-facet Rasch analysis. The theory underlying the program is described in reference MFRM. These instructions also apply to MINIFAC, the student/evaluation version of Facets, which has exactly the same functionality, but is limited in the number of observations it can analyze.
A basic many-facet Rasch model for observation Xnmij is:
log ( Pnmijk / Pnmij(k-1) ) = Bn - Am - Di - Cj - Fk
where
Bn is the ability of person n, e.g., examinee: Mary,
Am is the challenge of task m, e.g., an essay: "My day at the zoo",
Di is the difficulty of item i, e.g., punctuation,
Cj is the severity of judge j, e.g., the grader: Dr. Smith,
Fk is the barrier to being observed in category k relative to category k-1.
Pnmijk is the probability of category k being observed.
Pnmij(k-1) is the probability of category k-1 being observed.
Persons, tasks, items and judges are facets. The elements include Mary, "My day at the zoo", punctuation, and Dr. Smith. For each element, Facets provides a measure (linear quantity), its standard error (precision) and five fit statistics (statistical validity). The fit statistics enable diagnosis of aberrant observations and idiosyncratic elements. Facets also provides calibrations of response format structures, such as rating scales, partial credit items, letter grades and ranks. Results are presented in tables and graphically. The graphical presentation of measures is in a "ruler" format especially useful to non-technical users.
Facets can also quantify discrepant interactions between elements of different facets. Once measures have been estimated from a data set, differential facet functioning, equivalent to differential item functioning or "item bias", can be investigated automatically. A judge's bias on one item, or an item's bias against a group of persons can be identified and its size and statistical significance estimated.
Facets is ideally suited for essay grading, portfolio assessment and other kinds of judged performances. Its use is not limited to educational and psychological testing. It is employed to convert qualitative observations to linear measures in many areas of research and practice, including product development, sports science, pollution control, public speaking and the arts.
See References.
We acknowledge the kind permission granted by Chris Hanscom of Veign for the use of their Jeweled Style Command Button.