The "Output Files" menu allows you to output the measures after the analysis is completed. These files are in addition to those generated in the main run. They are put into separate files or displayed on your screen.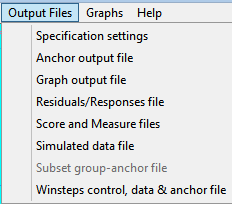 Anchor output file: the original specification file, but with the measure estimates included as anchor values for all elements.
Graph output file: the coordinates for plotting probability curves
Residuals/Responses output file: the response-level data and statistics
Score output file: element scores and measures
Simulated data file: response-level data simulated to match the empirical data
Subset group-anchor file: This assists with resolving ambiguities in the measurement frame of reference due to subset disconnection. It is only active when this type of problem exists, e.g., with example file subsets.txt
Winsteps control & data file: output the Facets data in a format compatible with Winsteps®
These output files include those produced automatically from the main analysis, but with more options, e.g., SPSS format output.

Coming Rasch-related Events
Apr. 25-26, 2013, Thurs.-Fri.
In-person workshop: Introduction to Rasch Measurement (R. Smith, N. Bezruczko), San Francisco CA, www.jampress.org
April 27 - May 1, 2013, Sat.-Wed.
AERA Annual Meeting, San Francisco, CA, www.aera.net
May 3, 2013, Fri.
ORVOMS: Ohio River Valley Objective Measurement Seminar, Lexington, Kentucky, Announcement
May 15-17, 2013, Wed.-Fri.
In-person workshop: Introductory Rasch (A. Tennant, RUMM), Leeds, UK, www.leeds.ac.uk/medicine/rehabmed/psychometric
May 20-22, 2013, Mon.-Wed.
In-person workshop: Intermediate Rasch (A. Tennant, RUMM), Leeds, UK, www.leeds.ac.uk/medicine/rehabmed/psychometric
May 31 - June 28, 2013, Fri.-Fri.
On-line workshop: Practical Rasch Measurement - Core Topics (E. Smith, Winsteps), www.statistics.com
June 7, 2013, Fri.
SPHERE workshop: Response-Shift and subjective measures in health science, Nantes, France, www.sphere-nantes.fr/
June 19-21, 2013, Wed.-Fri.
SIS 2013 Conference on Advances in Latent Variables: Methods, Models and Applications, Brescia, Italy, meetings.sis-statistica.org/index.php/sis2013/ALV
July 1 - Nov. 30, 2013, Mon.-Sun.
Online Course: Introduction to Rasch Measurement Theory (D. Andrich, RUMM), uwa.edu.au
July 5 - Aug. 2, 2013, Fri.-Fri.
On-line workshop: Practical Rasch Measurement - Further Topics (E. Smith, Winsteps), www.statistics.com
Aug.1-5, 2013, Thur.-Mon.
TERA-PROMS Annual Meeting, Kaohsiung, Taiwan, tera.education.nsysu.edu.tw
Aug. 9 - Sept. 6, 2013, Fri.-Fri.
On-line workshop: Many-Facet Rasch Measurement (E. Smith, Facets), www.statistics.com
Aug. 22, 2013, Thursday.
Symposium in honor of Svend Kreiner, Copenhagen, Denmark, biostat.ku.dk/kreinersymposium
Sept. 4-6, 2013, Wed.-Fri.
IMEKO TC1-TC7-TC13 Symposium: Measurement Across Physical and Behavioural Sciences, Genoa, Italy, www.imeko-genoa-2013.it
Sept. 13 - Oct. 11, 2013, Fri.-Fri.
On-line workshop: Rasch Applications in Clinical Assessment, Survey Research, and Educational Measurement (W.P. Fisher), www.statistics.com
Sept. 18-20, 2013, Wed.-Fri.
In-person workshop: Introductory Rasch (A. Tennant, RUMM), Leeds, UK, www.leeds.ac.uk/medicine/rehabmed/psychometric
Sept. 23-25, 2013, Mon.-Wed.
In-person workshop: Intermediate Rasch (A. Tennant, RUMM), Leeds, UK, www.leeds.ac.uk/medicine/rehabmed/psychometric
Sept. 26-27, 2013, Thurs.-Fri.
In-person workshop: Advanced Rasch (A. Tennant, RUMM), Leeds, UK, www.leeds.ac.uk/medicine/rehabmed/psychometric
Oct. 18 - Nov. 15, 2013, Fri.-Fri.
On-line workshop: Practical Rasch Measurement - Core Topics (E. Smith, Winsteps), www.statistics.com
Oct. 20 - Oct. 25, 2013, Sun.-Fri.
International Association for Educational Assessment (IAEA) 39th Annual Conference, Tel Aviv, Israel, www.iaea-2013.com
Dec. 11-13, 2013, Wed.-Fri.
In-person workshop: Introductory Rasch (A. Tennant, RUMM), Leeds, UK, www.leeds.ac.uk/medicine/rehabmed/psychometric
March 12-14, 2014, Wed.-Fri.
In-person workshop: Introductory Rasch (A. Tennant, RUMM), Leeds, UK, www.leeds.ac.uk/medicine/rehabmed/psychometric
May 14-16, 2014, Wed.-Fri.
In-person workshop: Introductory Rasch (A. Tennant, RUMM), Leeds, UK, www.leeds.ac.uk/medicine/rehabmed/psychometric
May 19-21, 2013, Mon.-Wed.
In-person workshop: Intermediate Rasch (A. Tennant, RUMM), Leeds, UK, www.leeds.ac.uk/medicine/rehabmed/psychometric
July 4 - Aug. 1, 2014, Fri.-Fri.
On-line workshop: Practical Rasch Measurement - Further Topics (E. Smith, Winsteps), www.statistics.com
Aug. 8 - Sept. 5, 2014, Fri.-Fri.
On-line workshop: Many-Facet Rasch Measurement (E. Smith, Facets), www.statistics.com
Sept. 10-12, 2014, Wed.-Fri.
In-person workshop: Introductory Rasch (A. Tennant, RUMM), Leeds, UK, www.leeds.ac.uk/medicine/rehabmed/psychometric
Sept. 12 - Oct. 10, 2014, Fri.-Fri.
On-line workshop: Rasch Applications in Clinical Assessment, Survey Research, and Educational Measurement (W.P. Fisher), www.statistics.com
Sept. 15-17, 2014, Mon.-Wed.
In-person workshop: Intermediate Rasch (A. Tennant, RUMM), Leeds, UK, www.leeds.ac.uk/medicine/rehabmed/psychometric
Sept. 18-19, 2014, Thurs.-Fri.
In-person workshop: Advanced Rasch (A. Tennant, RUMM), Leeds, UK, www.leeds.ac.uk/medicine/rehabmed/psychometric
The javascript to add "Coming Rasch-related Events" to your webpage is:
<script type="text/javascript" src="http://www.rasch.org/events.txt"></script>