Table 6 can be invoked from the Output Tables menu. Vertical= and Yardstick= control this Table. This set of rulers provides a graphical description of the variable as a Wright Map. The facets are positioned horizontally. The "+" or "-" before the facet name indicates whether the facet measures are positively or negatively oriented (Positive= or Negative=). The vertical axis provides a linear definition of the variable. Each element name is positioned according to its measure, "Measr". Elements with extreme scores are not positioned by measure, but are placed at the extreme top or bottom of the column for their facet.
The expected response on the scale is indicated on the right-hand side. S.1 refers to scale 1 in Table 8.1. It is the The "scale" column in Table 6 is the x-axis of the Expected Score ICC, also called the IRF. "---" are position at expected half-score points. The extreme values of the scale are indicated by (_), e.g., (9) and (1).
It is easier to compare elements with the rating scale (or partial credit) when all facets are positively oriented: Positive= 1,2,3,....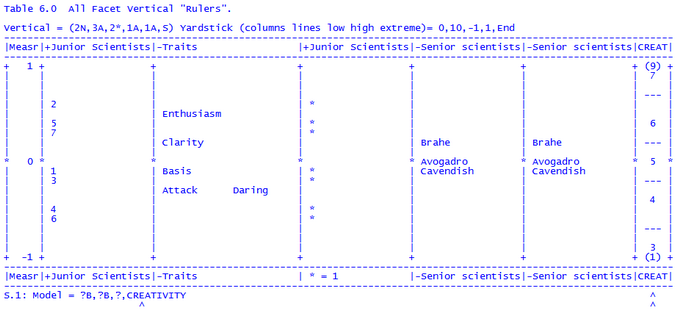 The rating scale in the right-hand column is identified underneath the "Rulers": CREATIVITY
---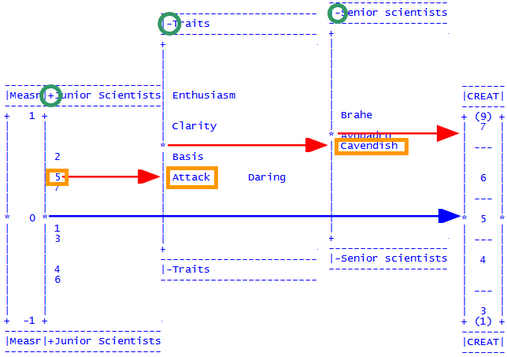 Using the rulers: "+ Junior scientist "5" ability - Attach difficulty - Cavendish severity" = expected rating of "7".
---

Lines marked with ":" (instead of "|") are continuations of the lines above, and have the same measure.
In this example, Betty, Edward and George have different measures, but display on the same line. They are listed alphabetically.
---
Example 1. A published example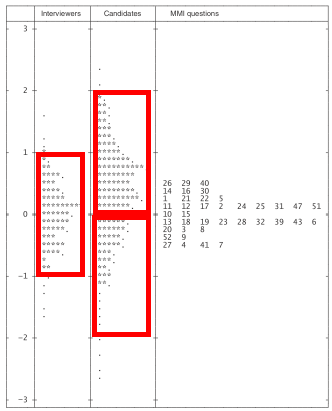 Table 6 as published in "Should candidate scores be adjusted for interviewer stringency or leniency in the multiple mini-interview?" by Chris Roberts, Imogene Rothnie, Nathan Zoanetti & Jim Crossley, Medical Education 2010: 44: 690–698
My red boxes: Notice that the logit range of the interviewers (raters) is about half that of the candidates. So that:
smartest candidate + most severe rater ≈ least smart candidate + most lenient rater
This was first noticed by Prof. Edgeworth around 1890, but 120 years later, Examination Boards continue to rely on the "luck of the draw" (as stated in Shavelson & Webb, "Generalizability Theory", 1991, p.8).
---
Example 2. Prettify the Creativity "rulers"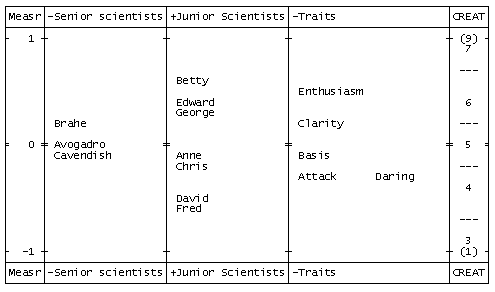 1. Do a standard Facets analysis of the Creativity data.
2. "Output Tables" menu
3. Table 6 (my setting: Yardstick = 1L, 2L, 3L)
4. Click on"Modify Specifications"
5. Click on "Ascii = Webpage"
6. click on OK
7. Temporary output file
8. Webpage displays
9. Reduce size until rulers are neatly visible (Ctrl -)
10. Copy and paste into a new Word document
11. Highlight all the Table with your mouse
12. Format font
13. 8pt
This should display neatly. If not,
14. 7pt (you can type in the 7 where the 8 was shown).
If there are spaces between the lines vertically, then
15. Format paragraph. Line spacing. Exactly. 6pt. (one point less than the font size)