Winsteps provides analytical and output capabilities not implemented in Facets, such as the principal components analysis of residuals. Winsteps requires a rectangular data layout. Select from the Output Files pull-down menu,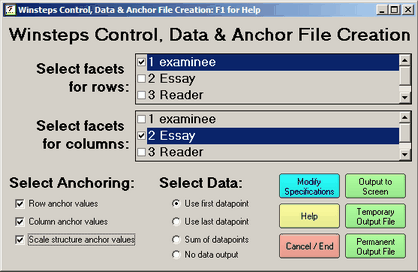 The Facets data are formatted into a rectangle. A row (or column) can comprise one facet. If one facet is checked, then each element of that facet becomes one row (or one column) in the data rectangle. If two or more facets are checked for rows (or columns), then each row (or column) comprises data corresponding to one combination of elements from each checked facet.
It is typical that formatting the data as a rectangle results in more than one observation for each row-column cell. If so, the "Select data" option specifies whether it is the first relevant datapoint in the Facets file, or the last, or the sum, which occupies the cell.
Row and column measure anchor values can also be written into the Winsteps file. These are obtained from the Facets estimates. If there is a rating-scale common to all the Facets data, this can also be used for Winsteps anchor values.
Example 1: The dialog box produces:
Title = AP English Essays (College Board/ETS)
item = Essay ; column identification
person = examinee ; row identification
xwide = 1 ; width of datapoint
codes = "12345678" ; valid data codes
; first data point in cell used
ni = 3 ; number of data columns
item1 = 1 ; starting column of data
name1 = 5 ; start of row labels
@pf1=$S1W5 ; 1 examinee
namelen = 5 ; row label length
safile = * ; rating structure anchor values
1 .00
...
9 2.75
*
iafile = * ; item-column anchor values
1 -.02 ; 1 A
2 .13 ; 2 B
3 -.11 ; 3 C
*
pafile = * ; person-row anchor values
1 -.82 ; 1 1
...
32 .03 ; 32 32
*
@if2=$S1W3 ; 2 Essay
&End
1 A ; item-column labels
2 B
3 C
END LABELS
553 1 1 ; row data + label
454 2 2
....
644 32 32
Example 2:
To verify that raters are following the judging plan, output a Winsteps file with the raters as rows, and the other ingredients of the judging plan as columns.
Example 3: We want a standard version of Winsteps Table 2.2 or other Winsteps Keyform-style output.
1. Do the Facets analysis, and output an Anchor file.
2. Output from the Facets "output files" menu a Winsteps control file. Specify which facet you want for the Winsteps columns (the rows on Table 2.2) and which facets you want for the Winsteps rows. Check "row anchor values" and "column anchor values". If "scale anchor values" are available, please check them.
3. Look at the Winsteps control file. If IAFILE= or SAFILE= anchor values are missing, please copy and reformat those values from the Facets anchorfile.
4. Run Winsteps and produce Table 2.2 or whatever Winsteps output you want.