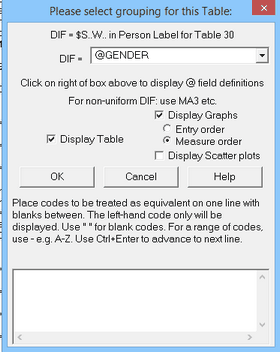 This is displayed from the Output Tables or Plots menus for Differential Item Functioning DIF Table 30.
In the DIF= box specify the column in the person label that identifies the DIF classification for each person. Enter the column of the DIF field in the person label. This is in the format $S9W1 or @GENDER or $MA3
Check "Display Table" for DIF Table 30.
Check "Display Plot" for the DIF Excel plot.
---
Transformation: Selected DIF=, DPF=, ISUBTOTAL=, PSUBTOTAL= codes can be transformed into other codes (of the same or fewer characters) for Tables 27, 28, 30, 31, 33: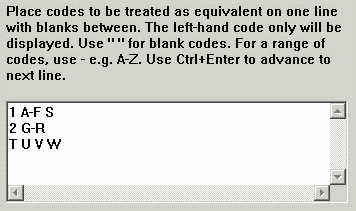 First produce the Table with the transformation box blank. Inspect the reported codes. Transform and combine them using the transformation box in a second run. In this example, codes 1,A,B,C,D,E,F,S will all be converted to 1. 2,G,H,I,J,K,L,M,N,O,P,Q,R will all be converted to 2. T,U,V,W will all be converted to T. Codes X,Y,Z and any others will be unchanged.
In each line in the transformation box, the code at the beginning (extreme left) of each line is the code into which it and all other blank-separated codes on the line are transformed. Ranges of codes are indicated by -. To specify a blank or hyphen as a code, place them in quotes: " " and "-". Codes are matched to the transformation box starting at the top left and line by line until a match is found, or there is no match.