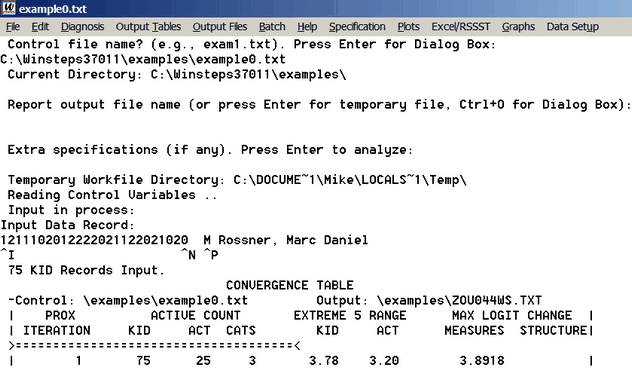 Winsteps provides a familiar "pull-down" user interface, intended to provide the user with maximum speed and flexibility. There are three main ways that you direct Winsteps:
(a) You respond to prompts on the screen.
There are two frequent ones:
Name of control file:
This is the "DOS-text with line breaks" or ASCII file where your control specifications reside.
You can press Enter to browse for it.
Report output file name:
Press Enter for a temporary output file, or
Type in an output file name or use the pull-down file menu
The report output file is always in text format.
Extra specifications (if any). Press Enter to analyze):
Press Enter
This is used for making just-in-time changes to your control file instructions, for this run only.
If these prompts do not appear, see Edit Initial Settings
(b) You use the pull-down menus.
A frequent choice is the first choice on both the File and Edit menus:
Edit Control File=
Select this to edit your Winsteps control file.
(c) You use the Notepad text editor.
All editing and display of Winsteps output is done using text files and Notepad or your own text editor.
This gives you great flexibility to:
modify control and anchor files
view, copy and paste output into Word (or other) files