Free Rasch Analysis and Rasch Measurement software...
Bigsteps
DOS version prior to WINSTEPS
Windows 7, 64-bit Windows: Please run in DOSBox
BIGSTEPS often does not run under recent versions of Windows
For complete information about Windows-native WINSTEPS.
Free version of BIGSTEPS 2.82 can be downloaded here. Users of earlier versions, please update to this.
Bigsteps is a DOS-based Rasch measurement program. It has most of the functionality of WINSTEPS, but lacks a Windows interface and recent enhancements. Its capacity is 3,000 items and 20,000 persons (cases). You may copy, distribute and use it without charge or time-limit. Of course, we hope you will want to purchase the full version of WINSTEPS (which can analyze 30,000 items and 10,000,000 persons, and has many other additional capabilities).

Free evaluation/student/demo version of WINSTEPS, called MINISTEP. Contains all Winsteps features except limited to 25 items and 75 persons (cases). Please copy, distribute and use.
BIGSTEPS
BIGSTEPS, DOS precursor to WINSTEPS. Final Version: 2.82, December 1998. Data capacity: 20,000+ persons by 3,000 items.
You may download the self-extracting, self-installation file for BIGSTEPS, the free DOS precursor to Winsteps (size 200KB)


"Save as" into "c:\windows\desktop\bigdos.exe"

Click on "bigdos.exe" on your desktop to install BIGSTEPS into your prefered directory, the precursor to Winsteps

Delete "bigdos.exe".

Run "Bigsteps" from your DOS prompt.

BIGSTEPS does not run under some versions of Windows.
BIGSTEPS has minimal support - if you need customer support, please purchase Winsteps
BIGSTEPS User's Manual (1998) in PDF format
You can download a PDF file containing Bigsteps.pdf, the entire text of the BIGSTEPS User's Manual. (612KB)


WINSTEPS-MINISTEP User Manual On-Line This User Manual is also useful for BIGSTEPS
Go to WINSTEPS-MINISTEP User Manual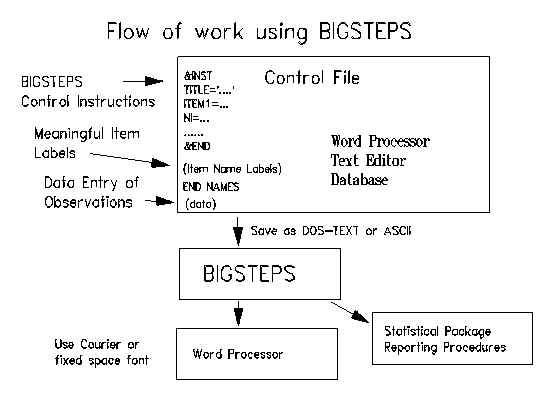 ---
Go to Top of Page
Go to Winsteps & Facets home Page
<! please update inquiryssi.htm, then copy and rename inquiryssi.txt>
Rasch Books and Publications: Winsteps and Facets
Applying the Rasch Model (Winsteps, Facets) 4th Ed., Bond, Yan, Heene
Advances in Rasch Analyses in the Human Sciences (Winsteps, Facets) 1st Ed., Boone, Staver
Rasch Measurement Models: Interpreting WINSTEPS and FACETS Output, R. Smith & S. Wind
Fairness, Justice and Language Assessment (Winsteps, Facets), McNamara, Knoch, Fan
Rasch Analysis in the Human Sciences (Winsteps), Boone, Stave, Yale
Introduction to Many-Facet Rasch Measurement (Facets), Thomas Eckes
Rasch Models for Solving Measurement Problems (Facets), George Engelhard, Jr. & Jue Wang
Statistical Analyses for Language Testers (Facets), Rita Green
Invariant Measurement with Raters and Rating Scales: Rasch Models for Rater-Mediated Assessments (Facets), George Engelhard, Jr. & Stefanie Wind
Aplicação do Modelo de Rasch (Português), de Bond, Trevor G., Fox, Christine M
Rasch Measurement: Applications, Khine
Winsteps Tutorials - free
Facets Tutorials - free
Many-Facet Rasch Measurement (Facets) - free, J.M. Linacre
Rasch Measurement research papers - free
Other Rasch Resources: Rasch Measurement YouTube Channel
An Introduction to the Rasch Model with Examples in R (eRm, etc.), Debelak, Strobl, Zeigenfuse
Rasch Measurement Theory Analysis in R Wind, Hua
Applying the Rasch Model in Social Sciences Using R, Lamprianou
Rasch Measurement Transactions - free
Journal of Applied Measurement
Probabilistic Models for Some Intelligence and Attainment Tests, Georg Rasch
Rasch Models for Measurement, David Andrich
Constructing Measures, Mark Wilson
Best Test Design - free, Wright & Stone
Rating Scale Analysis - free, Wright & Masters
Diseño de Mejores Pruebas - free, Spanish Best Test Design
Rasch Models: Foundations, Recent Developments, and Applications, Fischer & Molenaar
A Course in Rasch Measurement Theory, Andrich, Marais
Rasch Models in Health, Christensen, Kreiner, Mesba
Multivariate and Mixture Distribution Rasch Models, von Davier, Carstensen
As an Amazon Associate I earn from qualifying purchases. This does not change what you pay.
Questions, Suggestions? Want to update Winsteps or Facets? Please email Mike Linacre, author of Winsteps mike@winsteps.com
Coming Winsteps & Facets Events
Jan. 21 - Feb. 18, 2022, Fri.-Fri.
On-line workshop: Practical Rasch Measurement - Core Topics (E. Smith, Winsteps), www.statistics.com
May 20 - June 17, 2022, Fri.-Fri.
On-line workshop: Practical Rasch Measurement - Core Topics (E. Smith, Winsteps), www.statistics.com
June 24 - July 22, 2022, Fri.-Fri.
On-line workshop: Practical Rasch Measurement - Further Topics (E. Smith, Winsteps), www.statistics.com
Aug. 12 - Sept. 9, 2022, Fri.-Fri.
On-line workshop: Many-Facet Rasch Measurement (E. Smith, Facets), www.statistics.com
Oct. 7 - Nov. 4, 2022, Fri.-Fri.
On-line workshop: Practical Rasch Measurement - Core Topics (E. Smith, Winsteps), www.statistics.com
June 23 - July 21, 2023, Fri.-Fri.
On-line workshop: Practical Rasch Measurement - Further Topics (E. Smith, Winsteps), www.statistics.com
Aug. 11 - Sept. 8, 2023, Fri.-Fri.
On-line workshop: Many-Facet Rasch Measurement (E. Smith, Facets), www.statistics.com
Our current URL is www.winsteps.com
Winsteps® is a registered trademark

The URL of this page is www.winsteps.com/bigsteps.htm