Free Rasch measurement software...
Bigsteps
DOS version prior to WINSTEPS
Windows 7, 64-bit Windows: Please run in DOSBox
BIGSTEPS often does not run under recent versions of Windows
For complete information about Windows-native WINSTEPS.
Free version of BIGSTEPS 2.82 can be downloaded here. Users of earlier versions, please update to this.
Bigsteps is a DOS-based Rasch measurement program. It has most of the functionality of WINSTEPS, but lacks a Windows interface and recent enhancements. Its capacity is 3,000 items and 20,000 persons (cases). You may copy, distribute and use it without charge or time-limit. Of course, we hope you will want to purchase the full version of WINSTEPS (which can analyze 30,000 items and 10,000,000 persons, and has many other additional capabilities).

Free evaluation/student/demo version of WINSTEPS, called MINISTEP. Contains all Winsteps features except limited to 25 items and 75 persons (cases). Please copy, distribute and use.
BIGSTEPS
BIGSTEPS, DOS precursor to WINSTEPS. Final Version: 2.82, December 1998. Data capacity: 20,000+ persons by 3,000 items.
You may download the self-extracting, self-installation file for BIGSTEPS, the free DOS precursor to Winsteps (size 200KB)


"Save as" into "c:\windows\desktop\bigdos.exe"

Click on "bigdos.exe" on your desktop to install BIGSTEPS into your prefered directory, the precursor to Winsteps

Delete "bigdos.exe".

Run "Bigsteps" from your DOS prompt.

BIGSTEPS does not run under some versions of Windows.
BIGSTEPS has minimal support - if you need customer support, please purchase Winsteps
BIGSTEPS User's Manual (1998) in PDF format
You can download a PDF file containing Bigsteps.pdf, the entire text of the BIGSTEPS User's Manual. (612KB)


WINSTEPS-MINISTEP User Manual On-Line This User Manual is also useful for BIGSTEPS
Go to WINSTEPS-MINISTEP User Manual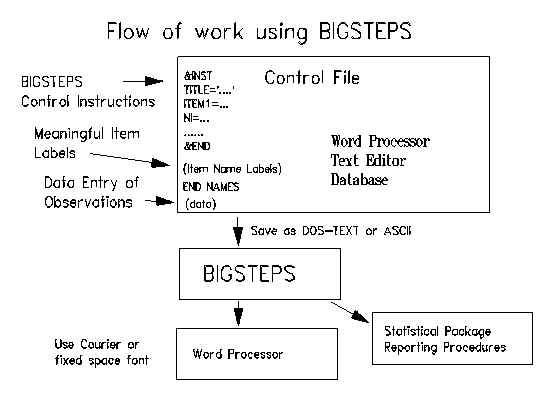 ---
Go to Top of Page
Go to Winsteps & Facets home Page
The Languages of Love: draw a map of yours!
For more information, contact info@winsteps.com or use the Contact Form

Click here to add your email address to the Winsteps and Facets email list for notifications.
Click here to ask a question or make a suggestion about Winsteps and Facets software.
Rasch Publications
Rasch Measurement Transactions (free, online)
Rasch Measurement research papers (free, online)
Probabilistic Models for Some Intelligence and Attainment Tests, Georg Rasch
Applying the Rasch Model 3rd. Ed., Bond & Fox
Best Test Design, Wright & Stone
Rating Scale Analysis, Wright & Masters
Introduction to Rasch Measurement, E. Smith & R. Smith
Introduction to Many-Facet Rasch Measurement, Thomas Eckes
Invariant Measurement with Raters and Rating Scales: Rasch Models for Rater-Mediated Assessments, George Engelhard, Jr. & Stefanie Wind
Statistical Analyses for Language Testers, Rita Green
Rasch Models: Foundations, Recent Developments, and Applications, Fischer & Molenaar
Journal of Applied Measurement
Rasch models for measurement, David Andrich
Constructing Measures, Mark Wilson
Rasch Analysis in the Human Sciences, Boone, Stave, Yale
in Spanish:
Análisis de Rasch para todos, Agustín Tristán
Mediciones, Posicionamientos y Diagnósticos Competitivos, Juan Ramón Oreja Rodríguez
Winsteps Tutorials
Facets Tutorials
Rasch Discussion Groups
Coming Winsteps & Facets Events
May 22 - 24, 2018, Tues.-Thur.
EALTA 2018 pre-conference workshop (Introduction to Rasch measurement using WINSTEPS and FACETS, Thomas Eckes & Frank Weiss-Motz), https://ealta2018.testdaf.de
May 25 - June 22, 2018, Fri.-Fri.
On-line workshop: Practical Rasch Measurement - Core Topics (E. Smith, Winsteps), www.statistics.com
June 27 - 29, 2018, Wed.-Fri.
Measurement at the Crossroads: History, philosophy and sociology of measurement, Paris, France., https://measurement2018.sciencesconf.org
June 29 - July 27, 2018, Fri.-Fri.
On-line workshop: Practical Rasch Measurement - Further Topics (E. Smith, Winsteps), www.statistics.com
July 25 - July 27, 2018, Wed.-Fri.
Pacific-Rim Objective Measurement Symposium (PROMS), (Preconference workshops July 23-24, 2018) Fudan University, Shanghai, China "Applying Rasch Measurement in Language Assessment and across the Human Sciences" www.promsociety.org
Aug. 10 - Sept. 7, 2018, Fri.-Fri.
On-line workshop: Many-Facet Rasch Measurement (E. Smith, Facets), www.statistics.com
Oct. 12 - Nov. 9, 2018, Fri.-Fri.
On-line workshop: Practical Rasch Measurement - Core Topics (E. Smith, Winsteps), www.statistics.com
Our current URL is www.winsteps.com
Winsteps® is a registered trademark

The URL of this page is www.winsteps.com/bigsteps.htm
John "Mike" L.'s Wellness Report: I'm 72, take no medications and, March 2018, my doctor is annoyed with me - I'm too healthy!
According to Wikipedia, the human body requires about 30 minerals, maybe more. There are 60 naturally-occurring minerals in the liquid Mineral Supplement which I take daily.