John Michael Linacre, Ph.D.
Research Director, Winsteps.com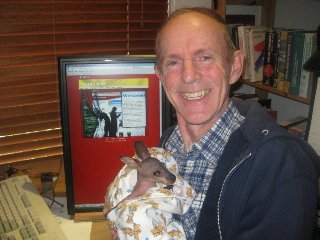 Mike is also a "wild-carer", shown here with Robbie, a baby wallaby.
1965-2015 - 50 years of computer programming!
Dr. "Mike" Linacre is the Research Director of Winsteps.com. He was formerly Director of the MESA Psychometric Laboratory at the University of Chicago and has held many positions in academia. He has taught the principles and practice of Rasch measurement since the 1980s, much of that time in close collaboration with Prof. Benjamin D. Wright, who was the internationally-recognized leading proponent of Rasch methodology from 1967 to 2001.
Mike is the developer of two leading Rasch software titles, Winsteps and Facets. These originated in the MicroScale Rasch analysis program, the first commercially-published Rasch software for a PC, developed in collaboration with Ben Wright in 1984. An innovation in that software was the robust handling of missing data. Mike had programmed digital and analog computers since 1965. His first instruction in computer programming was by Sir Maurice Wilkes at Cambridge University. Wilkes wrote the world's first book on computer programming in 1951.
Mike was Editor of Rasch Measurement Transactions from 1989-2012. He has authored 200 Journal articles and Conference papers. His research interests include the measurement of health outcomes and educational testing. Mike is active in Rasch research and software development.
But, beyond all these, he sees Rasch measurement as the road ahead in Social and many other Sciences. At one time "long division" was a University topic. Now it is taught in Grade School. Rasch Measurement is the modern "long division". Visionaries, such as Dr. Linacre's long-time teacher and colleague, Ben Wright, perceive that the way ahead in science is to think clearly. Non-linear numbers are inevitably confusing - only experts can do "Richter Scale" arithmetic. Additive, equal-interval, linear numbers, the forté of Rasch measurement, lead naturally to clarity of thought. And with clarity, we can make progress (and make money!).
For more of Dr. Linacre's publications see Google Scholar.
Mike is married to Jenny Pulford-Linacre, who is active in promoting health and wellness products for Mōdere.
---
| | |
| --- | --- |
| | Staff of Suzann Campbell's baby-measuring project. Mike Linacre is top center. See RMT 10:2. |